Greetings!!

For people just joining our group, or visiting intermittently, we have started an archive of KTW's emails. See them here.

Last week we sent out a map showing the overlay of the EWS property lines and the aquifer protection zone. The land overlies a high-yield drinking water aquifer serving three towns and many additional private wells.

Below, see details of the proposed subdivision sited on the 450 acres west of Bushy Hill Rd. Only a portion of this land is usable for a subdivision due to wetlands and existing pastures and equestrian facilities. However this portion slated for the subdivision snakes throughout the property and impacts its entirety.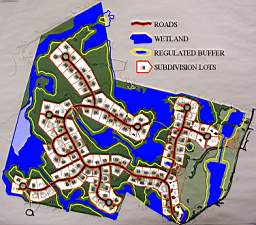 Subdivision Plan w/Legend

Thank you to the attendees and organizers of open mike night!

We are having a Community Meeting this Wednesday, Flamig Farm, 7PM. Hope to see you there.

Keep The Woods!