Greetings!!

Spring is here! No matter where you live, YOU LIVE IN A WATERSHED.

Water runs off the land and into local streams, rivers, ponds. Water infiltrates the land to replenish groundwater sources, including drinking water aquifers. Development, particularly sprawl, increases impervious surfaces, contaminates the water and limits groundwater recharge. The Connecticut Council on Environmental Quality has called sprawl the most serious environmental threat facing the state. Read a recent article on the relationship between sprawl and water quality by Eric Hammerling, Executive Director of Farmington River Watershed Association.

100% of Simsbury's drinking water comes from beneath Simsbury's land. The Stratton Brook Aquifer is the largest and most significant drinking water aquifer in town. Four Aquarion Water Company wells drawl from this aquifer to provide 73% of the town drinking water (2004 report). The watershed above the aquifer is designated the Aquifer Protection Zone (figure below). Development is inappropriate for this land.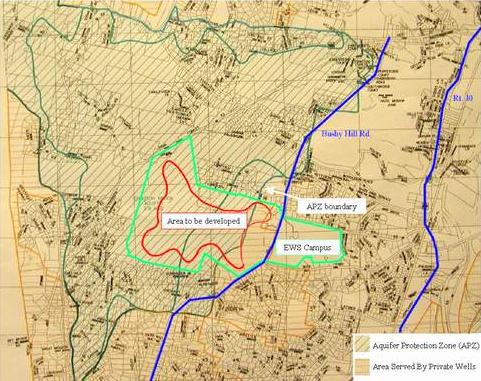 Simbury's mapping of the Stratton Brook Aquifer Protection Zone (Click to enlarge).

If you live in an Aquifer Protection Zone, it is of vital importance that you properly dispose of all chemicals, use only organic lawn and garden products, and use such products sparingly.

Reminder: Two upcoming events:

1. Saving Land and Water Together
Friday, May 19, 2006
9 AM to 2 PM (8:30, check-in and light breakfast)
The deKoven House in Middletown (directions here)

MUST RSVP ASAP to:
Rivers Alliance of Connecticut
Tel: 860-361-9349
E-mail: rivers@riversalliance.org
web: www.riversalliance.org

2. Air, Land, Water...and the Link to Our Children's Health
Sunday, May 21, 2006
4:30 - 6:00 PM (refreshments and reception to follow)
Greenwich Country Day School
Middle School Auditorium
410 Old Church Road, Greenwich

Reservations at events@gltrust.org, or 629-2151
For more information and directions visit www.gltrust.org

Mark your calendars: Eggstock 2006, June 24 at Flamig Farm.

Keep The Woods!