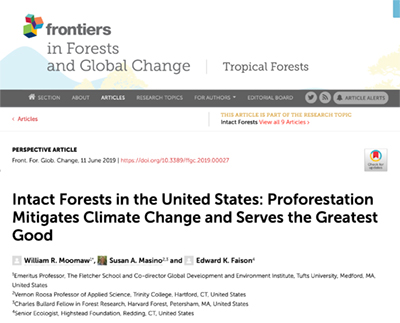 ---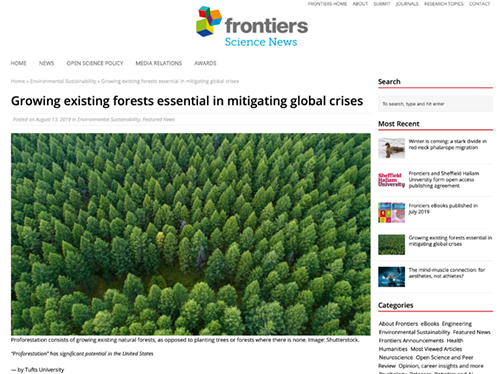 ---
In August 2019, an IPCC Special Report titled "Climate Change and Land" identified land use as a major driver of and a major solution to the climate crisis.
A piece in The Conversation referred to the IPCC Special Report and highlighted the importance of natural forests and proforestation.
https://theconversation.com/want-to-beat-climate-change-protect-our-natural-forests-121491
Additional news and references.
J. F. Bastin et al., The global tree restoration potential. Science 365, 76-79 (2019)
NOTE: Growing forests is more powerful than planting trees. We do not know how to plant a forest!
Dankosky, John. "Episode 156: The Confusing Tangle of Immigration Law; Hunting for Old Growth Forests". New England News Collaborative. Forest starts at 17 minutes.
"Enviro Show Proforestation Interview With Susan Masino". The Enviro Show. June 2019. Retrieved 24 July 2019.
Moomaw, William; Leverett, Bob; Jonas, Robert; Leverett, Monica (July 24, 2019). "How to fight climate change? Save existing forests". Daily Hampshire Gazette.
News release from Trinity College:
Bill McKibben clarified that biomass is not carbon neutral and highlights proforestation in an article in the New Yorker.
https://www.newyorker.com/news/daily-comment/dont-burn-trees-to-fight-climate-changelet-them-grow
Symposium at Harvard Forest
https://harvardforest2.fas.harvard.edu/asp/hf/php/symposium/symposium_abstract_view.php?id=4837